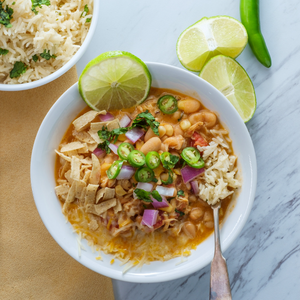 White Chicken Chili
White Chili Blend: Black Pepper, Cumin, Oregano, Sea Salt, Cayenne 40, Garlic, Onion, Celery Seed, Paprika, Parsley, Rosemary.
Ingredients:
2 Rounded TBSP White Chili Blend
1 LB Chicken, Cubed
1 Can Great White Northern or Black Beans
1 Onion, Diced
1 Bell Pepper, Diced
1 Can Corn
1 Can Tomatoes, Petite
1 Brick Cream Cheese, Soften & Cubed
1 Can Chicken Broth or Stock
Toppings: Shredded Co-Jack Cheese, Sour Cream
Optional: Chili Peppers
Follow these steps:
Turn crock pot on low, in a single layer, add cream cheese cubes.
Let it get a little melted. 
Add everything, except toppings, into the crock pot. 
Add water to fill.
Cook on LOW for 6-8 hours, stirring occasionally.
Top each bowl with cheese & sour cream.
---