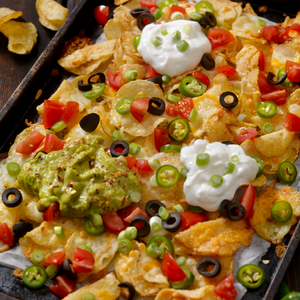 Western Taco Potato Chip Nachos
Western Taco Blend:  Ancho Chili, Sea Salt, Cumin, Garlic, Guajillo Chili, Black Pepper, Cayenne 40.
Ingredients:
2 TBSP Western Taco Blend
1 LB Ground Beef
1/2 Cup French Fried Onions
1 Bag Kettle Chips
2-4 Cups Mexican Blend Cheese Mix, Shredded
1 Tomato, Diced
1 Red Onion, Diced
Salsa
Optional: Black Olives, Jalapeños, Green Onions, Refried Beans
Follow these steps:
Pre heat oven to 400° .

In a skillet, brown beef.
Drain, add Western Taco Blend & 3/4 cup water. 
Simmer for 5-8 minutes.   
Layer chips & onions on a baking sheet. 
Top with cheese & beef mixture. 
Bake for 5-8 minutes, until cheese is melted. 
Remove from oven. 
Place chips on a serving tray. 
Top with salsa. sour cream, olives, onions, peppers & beans.
---