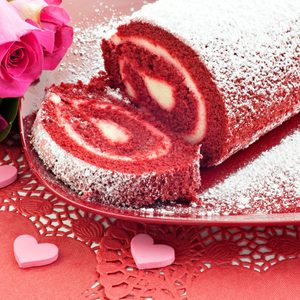 Red Velvet Roll Cake
Mole Seasoning:  Paprika, Onion, Cocoa Powder, Coriander, Cinnamon, Ancho Chili, New Mexican Chili, Cloves.
Ingredients:
2 TBSP Mole Seasoning
1 Box Red Velvet Cake Mix
1 Box White Chocolate Instant
Pudding Mix
1 Cup Cold Milk
1 Cup Whipped Topping
Confectioners Sugar
Follow these steps:
Preheat oven to 350°.
Line a jelly pan with parchment paper. 
Sift confectioners sugar evenly over a clean kitchen towel, set aside.
Prepare cake mix according to package directions adding Mole to the mix. 
Pour into prepared jelly pan. 
Bake for 20-25 minutes, or until toothpick comes out clean.
Loosen edges of cake from pan & lay warm cake onto prepared towel. Carefully remove & discard parchment paper. 
Starting at the end, roll up cake in the towel. Let cool completely. 
In a large bowl, combine pudding mix & cold milk, whisking well.
Refrigerate until set.
Fold in whipped topping. 
Unroll cake, remove towel. 
Spread filling over cake, reroll, ending seam side down.
Wrap tightly in plastic wrap & refrigerate until ready.
Before serving, sift a desired amount of confectioners sugar over top.
---