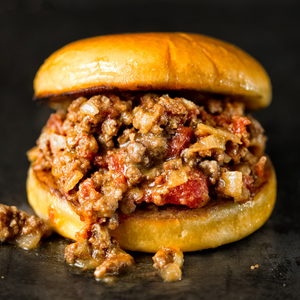 Mesquite Sloppy Joe's
Mesquite Seasoning:  Paprika, Sea Salt, Sugar, Onion, Garlic, Black Pepper, Yellow Mustard Powder, Tomato Powder, Mesquite Powder.
Ingredients:
2 TBSP Mesquite Seasoning
1 LB Ground Beef
8 oz. Tomato Sauce
Olive Oil
2 TBSP BBQ Sauce
1/2 Green Bell Pepper, Diced
1 Red Onion, Diced
2 Celery Stalks, Diced
1 Cup Water
Follow these steps:
In a skillet, brown beef, drain.
 Push beef to the sides of skillet. 
In the center on medium heat, sauté onions, celery & bell peppers, about 10 minutes. 
Combine tomato sauce, bbq sauce & Mesquite Seasoning in a bowl and whisk thoroughly. 
Combine beef with veggies, add sauce. 
Add water, mix well. 
Bring to a boil, reduce to a simmer, let simmer 30 minutes.
---