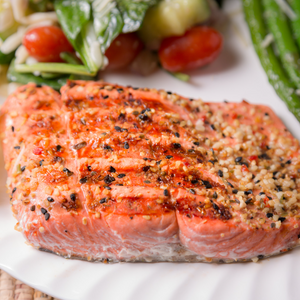 Kansas City Baked Fish
Kansas City Steak Seasoning: Sea Salt, Coriander, Garlic, Onion, Dill Seed, Chili Flakes, Paprika, Rosemary, White Pepper
Ingredients:
Follow these steps:
 Preheat oven to 350°.
 Use an oven safe skillet, pour enough oil in the bottom to cover surface of skillet.
 Place skillet on stove top, set to medium high heat. 
Wash fish, pat dry with paper towel. 
Lightly sprinkle non-skin side of each filet with Kansas City Steak Seasoning. 
Carefully place in skillet. Fish will splatter, so have a screen ready. 
Watch closely, they cook quickly. 
When fish become opaque, remove from stove and place in oven. 
Bake for 10 minutes or until completely cooked.  
---