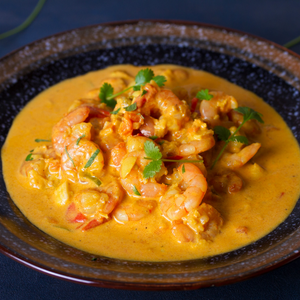 In A Hurry Curry
Madras Curry Blend:  Yellow Peas, Coriander, Cumin, Turmeric, Fenugreek, Indian Chili, Nigella, Black Pepper. 
Ingredients:
2 TBSP Madras Curry Blend
2 TBSP Canola Oil
2 Large Onions, Sliced
1 Can Unsweetened Coconut Milk
1 1/2 LBS Shrimp or Chicken, Cut Into Chunks
1 Can Tomatoes, Dice
1 Bag Of Rice
Follow these steps:
Place oil in a large skillet, on medium-high heat. 
Add onions. Cook stirring occasionally, until they are soft and tender. 
Stir in Madras Curry Blend. 
Mix well. 
Add coconut milk, stir. 
Add shrimp or chicken.  Continue to cook till done. Keep in mind, shrimp cooks faster than chicken. 
Add tomatoes, stir until well mixed. 
Bring to a broil, reduce to a simmer. 
Prepare rice according to package. 
Serve shrimp, veggie mix over rice. 
Enjoy!
---