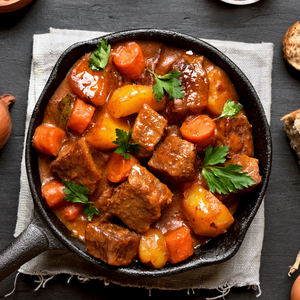 Harissa Beef Stew
Harissa Blend:  Pasilla Chili, Ancho Chili, Caraway Seeds, Coriander, Cumin, Ginger, Cinnamon, Sea Salt, Garlic.
Ingredients:
2 TBSP Harissa Blend
1/2 LB Cubed Beef Stew Meat
2 TBSP Flour
1 TBSP Oil
4 Cups Tomato Juice
1 Can Beef Broth
1 Can Petite Diced Tomatoes
1 Package Frozen Mixed Vegetables
1 Cup Potatoes, Cubed
Follow these steps:
Combine Harissa & flour in a zip lock baggie, shake well. 
Add beef, shake to coat meat. 
In a large skillet, medium heat, add oil and beef. Brown on all sides. 
Pour in tomato juice & beef broth, stir to combine. 
Stir in veggies. 
Bring to a boil, reduce to a simmer & cover. 
Let simmer for an hour or until potatoes are soft & meat is fully cooked. 
---