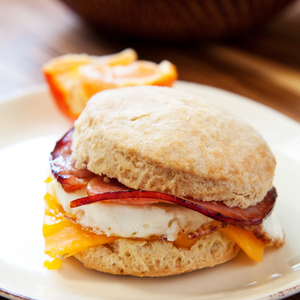 Ham & Cheese Biscuits
Spice & Everything Nice Blend:  Sea Salt, Coriander, Cumin, Black Pepper, Paprika.
Ingredients:
1 Can of Biscuits or Frozen Biscuits
16 Slices Deli Honey Ham
1/2 Cup Butter, Melted
Carolina Style BBQ Sauce
8 Slices Swiss Cheese
1 TBSP Poppy Seeds (Optional)
Follow these steps:
Preheat oven to 350°.
Separate biscuits into 8 biscuits.
On an ungreased cookie sheet, place biscuits 2 inches apart. 
Bake for 8 minutes. 
Lightly grease 13x9 baking dish. 
Carefully split each biscuit in half. 
Line bottom of dish with bottom of biscuit.
Layer 2 slices of ham. 
Sprinkle Spice & Everything Nice Blend on top then add a slice of cheese. 
Pour about 1 TBSP of BBQ sauce over cheese, add top piece of biscuit. 
Add poppy seeds to melted butter. 
Stir, then pour over biscuits. 
Bake 10-15 minutes or until a golden brown color.
---