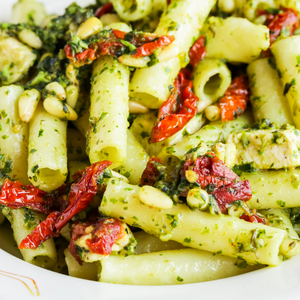 Garlic Goodness Baked Pasta
Garlic Goodness Blend:  Garlic, Sea Salt, Onion, Black Pepper, Parsley.
Ingredients:
2 TBSP Garlic Goodness
1 LB Your Favorite Pasta
2-3 Cups Chopped Heirloom Tomatoes
1/2 Cup Shredded Mozzarella Cheese
10 oz. Pesto
Follow these steps:
Bring a large pot of water to boil.
While the water is boiling, chop up the tomatoes. If using baby tomatoes just cut in half.
Add the pasta to the water and cook according to package directions.
Preheat the oven to 400 degrees.
Toss the cooked noodles with the chopped tomatoes, pesto, Garlic Goodness, and enough water to make it a little saucy.
Transfer to baking dish and sprinkle with cheese.
Cover loosely with well-oiled aluminum foil and bake for 10-5 minutes or until cheese is melted.
---