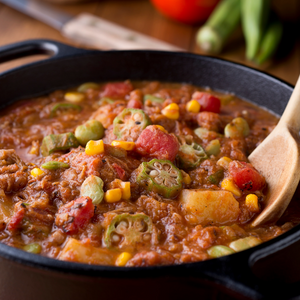 Farmer's Stew
Dip Sh*t: Parsley, Oregano, Paprika, Celery Seed, New Mexico Chili, Yellow Mustard Seed, Marjoram, Garlic, Savory, Thyme, Chili Powder.
Ingredients:
2 TBSP Dip Sh*t Blend
1 TBSP Oil
1 Onion, Diced
2 Green Peppers, Diced
4 Ribs of Celery, Diced
1/2 LB Ham
2 Cans Tomato Sauce
1 Quart Chicken Broth
1 Potato, Cubed
4 Links Kielbasa (or any sausage links)
Follow these steps:
Heat oil over medium heat in a large saucepan. 
Sauté onion, peppers & celery. 
Add kielbasa & ham. 
Cook until veggies are tender. 
Add tomato sauce & chicken broth. 
Bring to a boil. 
Add potatoes & Dip Sh*t Blend. 
Continue to cook for another 8-10 minutes or until potatoes are soft.
---