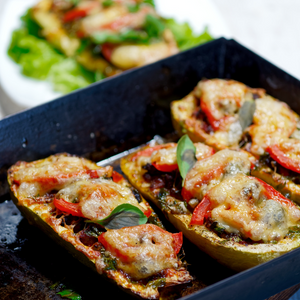 Colonel's Zubeanie Boats
Debbie's Southwestern Blend:  Onion, Garlic, Sea Salt, Parsley, Chili Flakes, Cayenne 40, Paprika, Chili Powder.
Ingredients:
2 TBSP Debbie's Southwestern Blend
4 Zucchini's, Cut In Half Lengthwise
1 Can Black Beans, Rinsed & Drained
2 Cups Mexican Blend Cheese, Shredded
1 Red Bell Pepper, Diced
2 Green Onions, Diced
2 TBSP Olive Oil
1 Cup Cooked Rice
1/2 Cup Corn
1/2 Cup Salsa
Follow these steps:
Preheat oven to 400°.
Spray baking sheet. 
Scoop flesh out of the zucchini halves & place halves upside down (skin side up) on baking sheet. 
Bake for 10-12 minutes. 
Remove from oven and turn them over. 
While zucchini is baking, heat oil in skillet over medium heat. 
Add red peppers, onions & zucchini flesh. 
Stir until tender. 
Add rice, beans, corn salsa & Debbie's Southwestern Blend. Cook until heated through. 
Remove from heat, stir in 1 cup of cheese. 
Evenly distribute filling in each zucchini boat & top with cheese. 
Return filled boats to oven & bake for another 10-12 minutes or until cheese is melted.
---