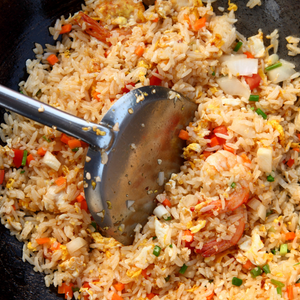 Classic Fried Rice
Far East Blend:  Sesame Seeds, Garlic, Chili Flakes, Ginger.
Ingredients:
2 TBSP Far East Blend
6 Strips Of Bacon, Cut Into Pieces
1 Egg, Beaten
8 Green Onions, Sliced
4 Cups Cold, Cooked Rice
3 TBSP Soy Sauce
Follow these steps:
Cook bacon in a large skillet over medium heat, until crisp. 
Move bacon to the side of the pan, add egg and scramble. 
Move egg over, add onions, sauté for about a minute. 
Stir in rice, Far East Blend, and soy sauce. 
Add bacon and egg, tossing until mixed well and heated through.
---