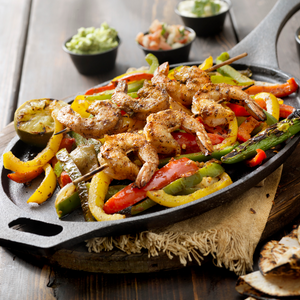 Chipotle Lime Shrimp Fajitas
Chipotle Lime Rub:  Sea Salt Chipotle Chili, Lime Juice Powder, Cumin, Garlic, Onion, Coriander.
Ingredients:
2 TBSP Chipotle Lime Blend
16 oz Shrimp, Peeled & Deveined
1 Red Bell Pepper, Sliced
1 Yellow Bell Pepper, Sliced
1 Red Onion, Diced
2 TBSP Olive Oil
8 - 6 inch Tortillas
Optional: Sour Cream, Avocado Slices, Lime Wedges
Follow these steps:
In a large bowl, toss Chipotle Lime Blend, shrimp, bell peppers, onion & olive oil. 
Coat shrimp evenly.
On a sheet pan, pour out mixture. 
Roast 9-10 minutes, stirring once during the final minute or until veggies are roasted. 
Spoon shrimp & veggies evenly onto lightly grilled tortillas, top with sour cream, avocado and a squirt of lime juice.
---