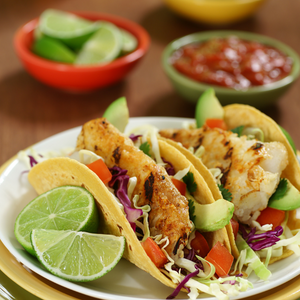 Chili Lime Fish Tacos
Chipotle Lime Rub: Sea Salt, Chipotle Chili, Lime Juice Powader, Cumin, Garlic, Onion, Coriander.
Ingredients:
2 TBSP Chipotle Chili Lime Rub
1 LB Cod Fillets, Cubed
1 Cup Flour
2 TBSP Baking Powder
1 Egg
1 Cup Beer (Your Favorite)
1/2 Cup Plain Yogurt
1/2 Cup Mayonnaise
1 Lime, Juiced
Oil For Frying
1 Package Taco Shells or Tortillas
1 Onion, Diced
Salsa
Mexican Blend Cheese, Shredded
Lettuce, Shredded
Sour Cream
In this recipe, we'll be making a beer batter for frying and a white sauce to top your tacos with.
Follow these steps:
To make the beer batter:
 In a bowl, combine flour, cornstarch, baking powder & Chipotle Chili Lime Rub. 
Stir in egg & beer. 
Stir quickly, lumps are ok.
To make white sauce:
 In a bowl, mix together yogurt & mayo. 
Stir in lime juice, then onions.
To fry fish:
Heat oil in skillet on high heat. 
Dust fish pieces with flour mixture.
Dip into beer batter
 Fry until crisp, golden brown. 
Layer your tacos: fish, lettuce, white sauce, cheese, salsa & sour cream.
---