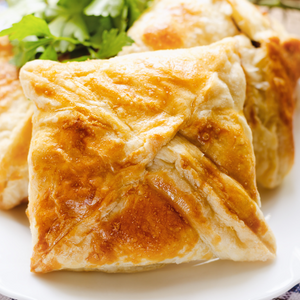 Chicken Fajita Puffs
Fajita Seasoning: Sea Salt, Onion, Garlic, Lime Juice Powder, Ancho Chili, Black Pepper, Oregano.
Ingredients:
2 TBSP Fajita Seasoning
1 Pkg Jumbo Crescent Rolls
3 oz Cream Cheese
1 Cup Cooked Chicken, Shredded
1 Cup Mexican Blend Shredded Cheese
⅓ Cup Salsa
Follow these steps:
Preheat oven to 375°.
Line cookie sheet with foil and spray with non-stick spray.
Place cream cheese & ½ cup shredded cheese in a bowl & microwave for 30 seconds to soften.
Add Fajita Seasoning, salsa & chicken to cheese mix. Stir until well combined.
Unroll rolls onto prepared sheet.
Scoop 1 TBSP of chicken mixture onto the center of the dough.
Pull outer corners of the roll over chicken mixture, then pull the long end over to completely enclose filling.
Sprinkle tops with shredded cheese.
Bake until golden brown, about 15 minutes.
---