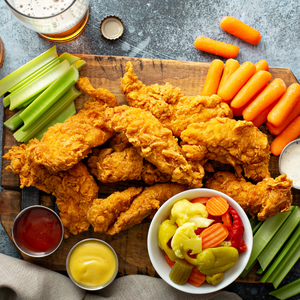 Carolina Gold Tenders
Carolina Gold:  Sugar, Yellow Mustard Seed, Chili Powder, Sea Salt, Turmeric, Malt Vinegar Powder.
Ingredients:
2 TBSP Carolina Gold Blend
1 1/2 LBS Chicken Tenders
1/3 Cup Mayonnaise
2 TBSP Honey
2 Cups Panko Breadcrumbs
Nonstick Cooking Spray
Follow these steps:
Preheat oven to 400°. 

Wash chicken tenders, pat dry, set aside. 
In a bowl, combine mayonnaise, honey & Carolina Gold Blend,  Mix well. 
Add chicken to sauce, turning to coat all sides. 
Put bowl of chicken back in fridge for 30 minutes. 
Lightly spray baking sheet with cooking spray. 
Place breadcrumbs in a bowl. 
Lift each chicken tender out of sauce, keeping a good layer of sauce on each one. 
Roll in panko, making sure all sides are coated. 
Place tenders on pan in a single layer. 
Bake for 15 minutes, turn and bake another 10 more minutes.
---