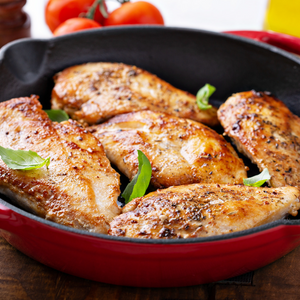 Bourbon Street Chicken
Bourbon Butt Rub: Bourbon Smoked Sugar, Sea Salt, Bourbon Smoked Paprika, Ancho Chili, Cayenne 40, Oregano, Black Pepper, Cumin.
Ingredients:
2 TBSP Bourbon Butt Rub
1 TBSP Olive Oil
2 LBS Boneless Chicken, Cut Into Pieces
1/4 Cup Applesauce
2 TBSP Ketchup
1 TBSP Apple Cider Vinegar
1/2 Cup Water
2 TBSP Worcestershire Sauce
1 Bag Frozen Stir-Fry Vegetables & Rice
Follow these steps:
Heat oil in large skillet over medium heat.
Add chicken. Cook until lightly browned. 
Add Bourbon Butt Rub, applesauce, ketchup, vinegar & water. 
Stir until mixed well. 
Bring to a boil, reduce, simmer for 10 minutes. 
Cook veggies & rice according to package. 
Serve chicken over veggies & rice.
---