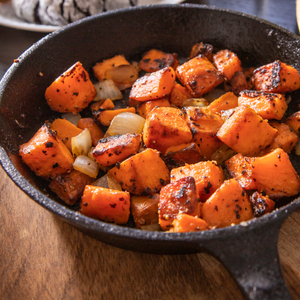 Bourbon Maple Sweet Potatoes
Bourbon Maple Rub: Maple Syrup Powder, Bourbon Smoked Sea Salt.
Ingredients:
Follow these steps:
Preheat oven to 400°. 
Wash & scrub sweet potatoes thoroughly. Do not peel. 
Dry with a paper towel. 
Cut in half lengthwise, then cut each half into 4 long strips. 
Chop into small cubes. 
Line a baking sheet with parchment paper. 
Spread potatoes out, drizzle with olive oil and sprinkle with Bourbon Maple Rub. 
Toss to coat. 
Bake for 15-20 minutes, flip and bake 15-20 minutes more, or until crispy. 
---