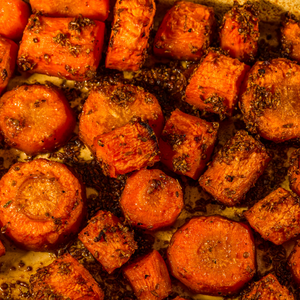 Bourbon Maple Roasted Carrots
Bourbon Maple Rub: Maple Syrup Powder, Bourbon Smoked Sea Salt.
Ingredients:
Follow these steps:
 Preheat oven to 425°.
 Put carrots into a large zip lock baggie.
 Add oil and Bourbon Maple Rub. 
Seal bag. 
Manipulate carrots & mix until carrots are completely coated. 
Pour carrots evenly into a baking dish. 
Roast for 30 to 40 minutes.
---