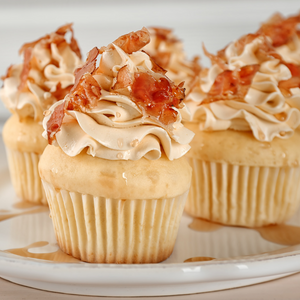 Bourbon Maple Bacon Cupcakes
Butter Up Your Batter Sugar Blend: Sugar, Maple Syrup Powder, Butter Buds, Cinnamon.
Ingredients:
1 Cup Butter, Softened
1 Cup Sugar
3 Large Eggs
1/3 Cup Milk
1/3 Cup Bourbon
2 Tsp Vanilla Extract
2 1/3 Cups Flour
3 Strips Bacon, Cooked & Crumbled
Maple Glaze:
1 1/2 Cups Confectioners' Sugar
5 TBSP Maple Syrup
3/4 Tsp Lemon Juice
Follow these steps:
Preheat oven to 350°. 
Spray or line muffin tins. 
In a large bowl, beat butter, Butter Up Your Batter Sugar Blend & sugar until light & fluffy. Scrape sides of bowl. 
Add eggs, one at a time, beating after each one, until mixture is smooth. 
In a small bowl, combine milk, bourbon & vanilla. Mix well. 
Add flour in thirds, alternately with milk mixture. 
Pour batter in prepared muffin tin/cups. 
Bake for 18-20 minutes, or until a wooden pick inserted in the center comes out clean. 
Let cool completely. 
While you're baking your cupcakes, make maple glaze. 
In a medium bowl, combine sugar, syrup & lemon juice, whisk until smooth. 
Spread glaze over cooled cupcakes and top with crumbled bacon. 
---