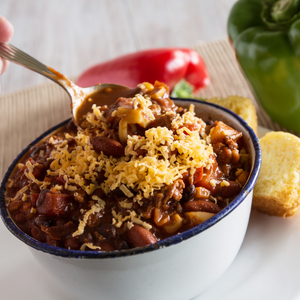 Best Chili
Chili Powder:  Ancho Chili, Sea Salt, Garlic, Oregano, Cumin, Coriander, Cloves, Allspice.
Ingredients:
2 Rounded TBSP Chili Powder
1 LB Ground Beef
1 (6oz) Can Tomato Paste
1 Onion
1 Can Diced Tomatoes
1 (12 oz) Beer
5 Cups Tomato Juice or Water
Shredded Cheddar Cheese
Optional: (4 oz) Can Diced Green Chile Peppers
Follow these steps:
In a skillet, brown beef, drain, return to heat.
Add Chili Powder, tomato paste, onion, tomatoes, beer, & tomato juice/water.
Bring to a boil, reduce to simmer, cover.
Simmer 2-3 hours.
---