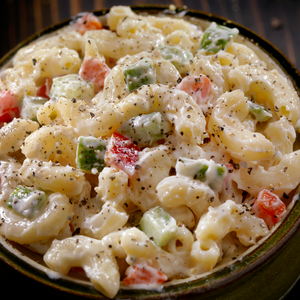 Bacon Ranch Pasta Salad
Ranch Dust:  Buttermilk Powder, Onion, Garlic, Parsley, Sea Salt, White Pepper, Chives, Celery, Dill Weed, Paprika.
Ingredients:
2 TBSP Ranch Dust
1 (12 oz) Pasta
1/2 Cup Mayonnaise
1/2 Cup Sour Cream
1/2 Cup Milk
8 Slices Bacon, Cooked & Diced
2 Green Onions, Diced
1 Cup Italian Blend Cheese, Shredded
Follow these steps:
Bring a large pot of water to a boil.
Add pasta, cook until al dente.
Drain water then rinse pasta with cold water to cool. Set aside.
In a large bowl, whisk together mayonnaise, sour cream, Ranch Dust & milk.
Add pasta, bacon, onions & cheese.
Gently toss to combine everything.
Cover & chill for at least 2 hours before serving.
---