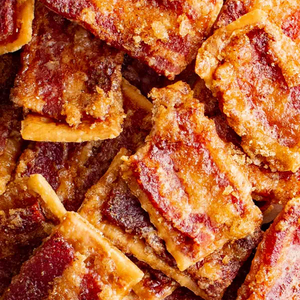 Bacon Crack
Bourbon Smoked Sugar:  Turbinado Sugar
Ingredients:
Follow these steps:
Preheat oven to 250°.
Arrange a single layer of crackers on a cooling rack over a cookie sheet pan.
Top each cracker with 1/3 slice bacon.
Evenly sprinkle desired amount of Bourbon Smoked Sugar over the top of each piece of bacon.
Bake for 1 hour or until browned and crisp.
Serve warm or at room temperature.
---